IDENTIFICATION 3.0
global, innovative, simple identification that works.
Straight Forward
It does not use any electronic component that can be broken or deactivated. Once installed it does not require any kind of maintenance.
Effective
It prevents the immediate alteration of the true identity of your vehicle, making it seem worthless in the eyes of potential thieves.
'SOCIAL' SECURITY'
Whoever, anywhere in the world, can verify in real time the true identity of the vehicle registered in the database with the simple help of his smartphone.
360° IDENTITY PROTECTION
seQRity is the first marking system that is not limited to protecting the identity of the vehicle and the integrity of the data recorded in its documents, but it closes the loop creating a logical connection between the legitimate license plates and the identity registered in the database . All these elements can be verified in real time, completely free of charge.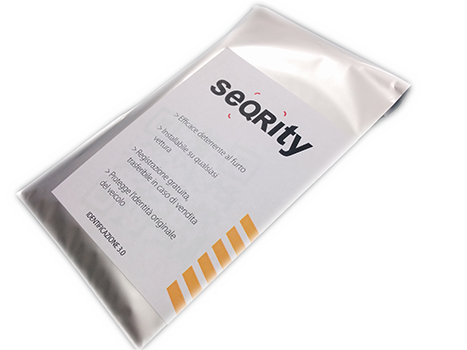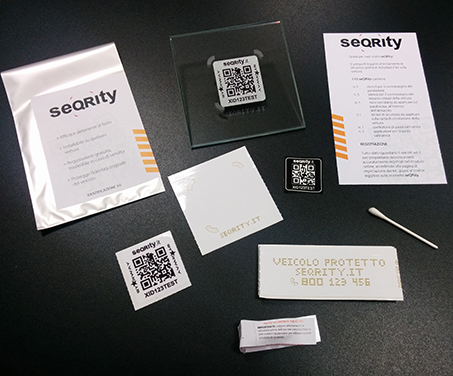 KIT COMPONENTS
CAR WINDOWS' STENCILS
n. 5 self-sticking stencils to mark the vehicles' windows
n. 1 self-sticking stencil to mark the windscreen
CODED WINDOW STICKER
n. 1 QR coded window sticker to fit inside the car on the windscreen
SECURITY STICKERS
n. 1 security sticker bearing the kit's QR
n. 2 security sticker bearing the alphanumeric code
EXTRA
n. 1 marking paste
n. 1 dauber
seQRity can save you money!
Ask your insurance company if it offers discounts on fire and theft cover thanks to the car windows' marking.